Hey Old Cityzens!
I hope everyone had great weekend. It went from being summer to being spring very quickly! I know this is the end of spring break for some schools. Do you know where sheep go for spring break? The Baa-hamas.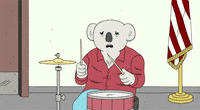 Class Size and Waitlist
Our classes our capped at 15 members. Each class is open for reservations 1 week in advance. You have 30 minutes before the start of class to cancel your reservation. If a class is full, you can add yourself to the waitlist. If you get off the waitlist, you will receive an email confirmation. If the class is full, there are people on the waitlist, and someone doesn't show up to class.. the no-show person will be charged a drop in fee.
The Open Gym slots are to be used to do your own workouts. We know you want to spend extra time on improving your squat, working on pull ups, or to make up a workout you might've missed earlier in the week. These are not a way to get into the current class.
Let's see what's coming up THIS week..
Monday – Long workout with push ups, wall balls, and pull ups.
Tuesday – Double strength day with a clean focus – a triplet complex! You'll also get a chance to work on strict dips and Dballs over the shoulder for max reps.
Wednesday – Bench press, KB swings, and air squats.
Thursday – New Old City Benchmark WOD – deadlifts and burpees.
Friday – Step ups and downdog push ups, followed by double unders and V-ups
Saturday –
Sunday – Rest Day! Phew! We also have Yoga at 10am and Gainz Club at 11am. Otherwise, try to relax a bit, and we'll see you back in the gym tomorrow!
Let's have another great week!
-Jen